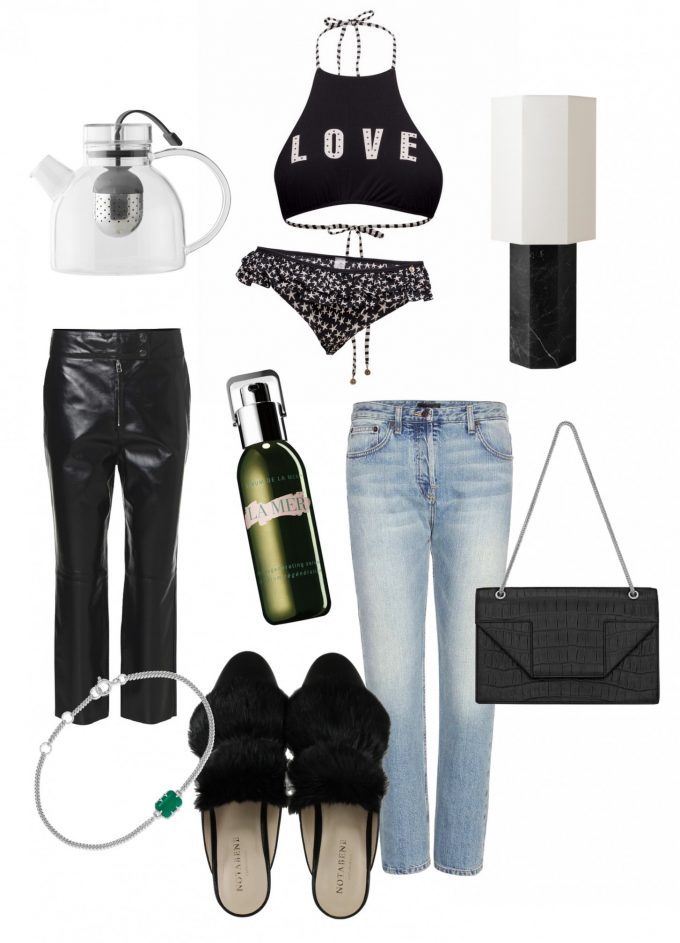 AFFILIATE  tea kettle MENU  bikini top LOVE STORIES  bikini bottom LOVE STORIES
marble lamp LOUISE ROE COPENHAGEN  shiny leather pants BY MALENE BIRGER
serum LA MER  jeans THE ROW  'betty' bag SAINT LAURENT
loafers NOTABENE  bracelet SOPHIA ROE FOR CARRÉ
Det er først om 19 dage… Og i år bliver det en ret anderledes af slagsen!
Jeg har snart fødselsdag og skal denne gang, holde den alene i Schweiz.
Jeg skal lave kampagne med et cool brand i kender. Glæder mig ret meget til at vise jer, hvem det er med!
Den bliver selvfølgelig også lidt anderledes for mig i år, da det er første gang, jeg skal holde den uden min tvillingebror.
Måske det virke ligemeget, men når man har fulgt hinanden hele livet føles det underligt.
Han er forresten lige nu rejst 3 måneder til Zanzibar… det kan jeg selvfølgelig godt unde ham!
Jeg har lidt haft lyst til, at ønske mig loafer'ne fra Gucci, som I nok kender.
Men jeg har det stramt med pels inden i (kommer man ikke til at svede helt vildt??)
og den brune pels, som jeg ikke helt er venner med. De loafers ovenfor er uden pels indvendig,
sorte og en hel del billigere. Jeg krydser fingre for, at det er dem jeg får lov at eje.
Så er der armbåndet. Det er fra min nye kollektion for Carré (læs mere her).
Det er en klar personlig favorit fra kollektionen, som desuden kommer ud slut Marts!
Hvad syntes I?
Til April skal jeg for første gang, siden 9. klasse, på ferie med min familie. Lidt underligt ikke at have min kæreste med.
Vi rejser jo altid sammen.
Til den ferie ønsker jeg mig bikinien fra Love Stories. Hvis nogle af jer skal ud og rejse inden længe, kan jeg anbefale jer, at se deres badetøjskollektion. Der er virkelig mange pæne ting.
God aften